September Newsletter – Pure Homeopathy
Pure Homeopathy – September Newsletter
I hope you are all doing well! Homeopathy has been a passion of mine for nearly my whole life. Earlier this month I had the great honor to represent the United States at an international homeopathic conference, the Liga Medicorum Homoeopathica Internationalis. It was one of the biggest honors of my career to meet with homeopathic representatives from around the world where we spent 3 days together discussing homeopathy in each of our countries. After the representative meetings there were 3.5 days of pure Hahnemannian (meaning true pure homeopathic) lectures. These lectures were high pace, there were three rooms going at the same time, each with a 20 minute lecture. It was a "Ted Talk Homeopathy" weekend! There were hundreds of homeopaths from all over the world gathered to study and compare our studies and clinical work with each other. This conference was revitalizing for me, it was good to see homeopathy alive and well through out the world. I returned with my heart full, my mind racing and most importantly, with an even deeper love of caring for you all using this great medicine.
In Health,
Dr. Amerine
---
HomeopathyER
Arnica
Any injury that results in bruising Arnica will be the first remedy to think of as it is indicated in any kind of injury or trauma. You will find effects from any injury but especially if it is from a blow or results in bruising. The first indication that someone needs Arnica after an injury is they will instinctively say "I am okay". Can you think of a time when you hurt yourself and got up quickly saying "I am okay"? Symptoms will include a bruised and sore feeling that is worse with any kind of touch. A person who needs Arnica will be restless and complain they can't get comfortable because the bed feels too hard. Another indication that someone needs Arnica in a first aid situation is that their head or face is hot while the rest of their body and extremities are cold.
---
Lifestyle Corner
Exercise: One hundred years ago there was no such thing as a gym or exercise program. We were all just active. Today however that is not an option for most of us so we must be much more intentional in how we move our body. Thankfully there are many ways to do this, your job is to find what works best for you.
Daily movements: Perhaps you don't have time for or don't want or don't like an intentional form of exercise. You are not alone, and it is found that the healthiest people were just active. Again, we must be intentional, so I recommend you get something that count your number of steps and you make a goal to get 10,000 steps every day.
If you are into moderate intensity level activities think of the following: Bicycling, canoeing, dancing, dodgeball, downhill skiing, fencing, hiking, housework, ice-skating, in-line skating, juggling, jumping on a trampoline, paddle boating, playing Frisbee, roller-skating, shooting baskets, shoveling light snow, skateboarding, snorkeling, surfing, swimming recreationally, tennis (doubles), treading water, walking briskly (4 mph), water aerobics, waterskiing, yard work, and yoga. If this is you, make it a goal for 90 minutes a day.
Some of you love vigorous activities. This includes backpacking, basketball, bicycling uphill, circuit weight training, cross-country skiing, football, hockey, jogging, jumping jacks, jumping rope, lacrosse, push-ups and pull-ups, racquetball, rock climbing, rugby, running, scuba diving, tennis (singles), soccer, speed skating, squash, step aerobics, swimming laps, walking briskly uphill, and water jogging. If this is you, make it a goal for 40 minutes per day.
If you are interested in individualized lifestyle on topics such as sleep and rest, exercise, healthy relationships, stress management, the need for fresh air, nature and breathing, and nutrition, contact our office so we can schedule a free consult with our health coach, Kristen.
---
September Newsletter Blog Feature

Holistic Medicine and Your Pets
Just like people have a choice in healthcare, today's pet owner has the option to choose holistic veterinary medicine (HVM) instead of, or in conjunction with, conventional veterinary medical care. This article provides an overview of HVM, helping you determine if this type of care is the right choice for you and your pet.
What is Holistic Veterinary Medicine?
By holistic we mean taking into account the whole picture of the patient (your pet) and not simply the symptoms presented at the time of your visit. When your pet is in the care of a holistic vet, the doctor's aim is to identify and treat the "root cause" of illness, not just alleviate symptoms. They will accomplish this using traditional animal medicine practices plus approaches and treatments from their specialization in holistic animal medicine.
Conventional Veterinarian's Philosophy of Practice
The conventional veterinarian identifies symptoms of disease and asks, "How do I make these symptoms go away so the pet can be more comfortable?" The doctor dispenses medicines or other treatments to manage the symptoms.
Philosophy of practice: If there are no symptoms, there is no more disease.
Holistic Veterinarian's Philosophy of Practice
The holistic veterinarian identifies symptoms of disease and asks, "Why is this pet having these symptoms, in this, or these, organ systems, at this time?"
Philosophy of practice: going to the source of the symptoms in order to provide lasting recovery and optimal wellbeing.
Like a medical detective, the holistic vet wants to uncover the root cause of the disease process, not just get rid of symptoms. If the root cause is not addressed, symptoms may return in the same or different organ system.
Education and Training
All veterinarians must have the same foundation of education in order to practice medicine:
Completion of a four-year college degree (usually in a science such as biology)
Completion of veterinary medical school
Passing score on the NAVLE (North American Veterinary Licensing Examination)
Depending on the state, there may be additional clinical competency tests and/or state jurisprudence exam requirements to be met
Completion of a state required licensure forms and payment of licensure fees
Many vets will have a post-doctoral specialization just like a "people doctor"
During the course of their training and practice of animal medicine, a veterinarian may have experienced the benefits of holistic medicine for themselves or become curious about how holistic therapies could benefit animals. Thus begins the additional coursework, practical training, and certification in holistic medicine for pets.
An important distinction:
In addition to the above requirements, holistic veterinarians must have successfully completed a certifying exam to refer to themselves as a holistic vet.
Inside a Visit with a Holistic Veterinarian
During your pet's visit with a holistic veterinarian, the doctor will embark on an inquiry to discover why your pet is ill. They will:
take a history of the illness, from before symptoms started to the present
evaluate the disease pattern (how have symptoms changed over time)
inquire about the animals daily routine, including physical activity
take fecal samples and blood work for lab tests
assess the pet's diet and fluid intake, and elimination behavior
ask about the pet's living environment and daily routine
inquire about the relationship with the pet owner and other animals
Treatment Techniques in Holistic Veterinary Medicine
HVM modalities do vary; some common approaches to treatment may include:
Acupuncture, Acupressure
Botanical (herbal) medicines
Behavioral Interventions
Environmental Interventions
Chiropractic Treatment
Food Intolerance Testing
Dietary Interventions
Nutritional Testing & Dietary Supplements
Homeopathy
Veterinary Orthopedic Manipulation
Laser Therapy
When Should I Choose Holistic Vet Care?
Choosing a holistic veterinarian is a personal choice. For some pet owners, HVM is a choice made after conventional treatment has been unsuccessful. For others, holistic veterinary healthcare is the first and only choice for their cat or dog.
The most important step you can take for your beloved pet's care — conventional or holistic — is to do your homework: research treatments you're not familiar with, ask questions, and get second opinions when needed. Your pet deserves safe, reliable medical care.
Important: In a medical emergency, go directly to an emergency animal hospital.
References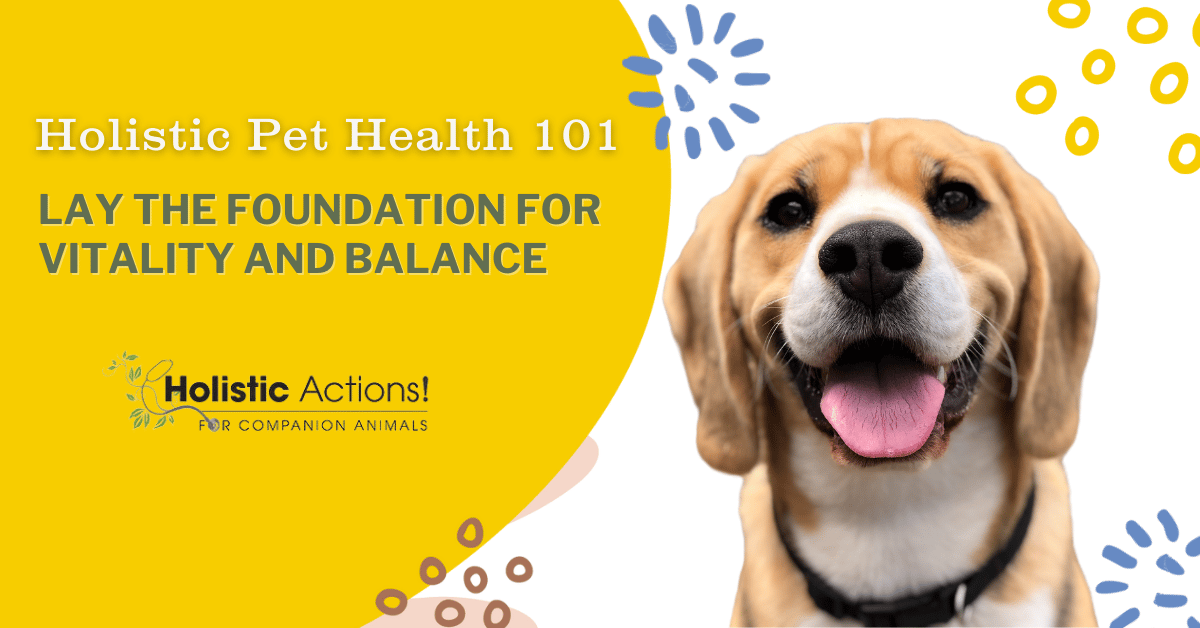 A good friend of mine is a homeopathic vet, Dr. Jeff Feinman. He has started a program that is designed for you and your pet. The website is Holistic Actions and here there is a lot of free information about holistic care for your pet! There is also a membership section where you can gain access to thousands of blogs regarding care for your pet as well as group calls with Dr. Feinman and even the ability to have access to him or other holistic vets for consultation. My dog, Belladonna, has Addisons disease, a disease where her adrenal glands fail. I have used this site for tips to support her, for recipes of raw dog food and most importantly for access to Dr. Feinman to treat Belladonna giving her an amazing life!
Interested in Become a Patient?
Are you interested in becoming a patient? If yes please call our office at 303-665-2423 to book your free discovery call. You can also visit our web page to learn more.
Thank You For Your Sharing!
It is because of you that this practice is successful. Please feel free to forward this newsletter to anyone you would like! Also thank you so much for all of your referrals.
Pure Center of Health offers naturopathic and functional wellness programs to get to the root cause, empower healing, and restore hope. Stop chasing your symptoms in circles. Learn more about Pure Center of Health >>